Patrick Hazel Verbals Marquette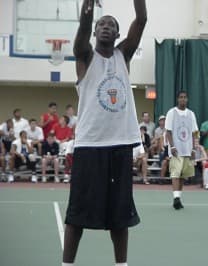 Patrick Hazel of Blair Academy, after a weekend visit to Marquette, has committed to play for Marquette in 2007. His verbal completes Tom Crean's 2007 class.
Hazel was getting interest from Lehigh, UMass, St. John's, St. Joe's, Seton Hall, Holy Cross, Hofstra, LIU, William and Mary, and had scheduled visits to UMass, Rhode Island and Hofstra before signing up with Marquette.
Hazel was ranked among the top 25 seniors in the state in the June NJ Hoops Newsletter, a Rivals partner site.
According to NJ Hoops, "6 foot 7 Blair Sr. Pat Hazel has many attributes that are in short supply by the college prospects in the east. Hazel is a post player who blocks shots and rebounds. He has very good length and athleticism with a good frame. He plays to his strengths and doesn't force much."