Catching up with Earl Tatum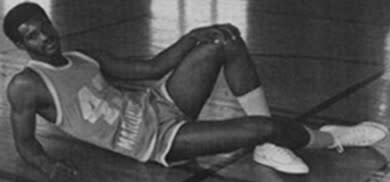 Were it not for a well-timed display of bad table manners, one of the best players in Marquette would have instead been an Indiana Hoosier.
"The hotel I stayed at had this huge breakfast spread," recalls Earl Tatum, of his official visit to Marquette in the spring of 1972. "I'd just finished eating when Coach McGuire came in to pick me up. He lifted the napkin off my plate and started eating with his hands the remaining scraps of food under it. I was leaning towards attending Indiana, but that one act convinced me to go to Marquette. He was so at ease with himself and unconcerned about how it might look. I knew there and then that I wanted to play for this man."
The Mount Vernon, NY native became acquainted with Marquette through John Von Bargen, a local recreational league referee, who played for McGuire during his coaching stint at Belmont Abbey. Von Bargen befriended Tatum, helped him secure summer employment and sung the praises of his former coach.
"By my junior year I'd received letters with scholarship offers from 390 colleges and my phone was jumping off the hook with calls from coaches, but no one school really stood out, other than Indiana," said Tatum. "Then, John called me and said I should think about Marquette. When I met Coach, he told me I was better than his son, Allie, and that at 6'5" he wanted me on the perimeter to play big guard – although he never played me there; I only played small forward."
Position semantics aside, the "Black Jerry West," as McGuire dubbed him, had one of the most prolific careers in Marquette history. Thirty years after his final game, he's tied for 23rd place on the school's career scoring list, is one of only 18 players in Marquette history to be a member of both its 1,000-point and 500-rebound clubs and still holds the school record for most field goals (241) in a single season.
After averaging a team-high 18.3 points in 1976, Tatum was taken by the Los Angeles Lakers with the fourth pick of the second round in the NBA draft. He played for six teams in four seasons -- averaging a career-high 14.3 points a game in 1978 – before a knee injury incurred in 1980 abruptly ended his NBA career. Rigorous rehabilitation followed and after aborted comeback attempts with professional teams in the Philippines and Sweden, Tatum retired from basketball for good in 1983 and settled in Milwaukee with his wife, Larena and daughters, Jennay, now 26, and Mia, now 24.
Uncertain about what field to enter, Tatum, who graduated with a degree in Sociology, met regularly with McGuire and fellow-Marquette great George Thompson, in what the Coach called the "Get Earl a job club." Eventually, the three decided that Tatum should enter the insurance business and he subsequently embarked on a 23-year career as a salesman with Farmers Insurance. Tatum remains grateful to McGuire for his job counseling and invaluable life lessons.
"When I played for him, he always used to say that professional basketball was garbage, a joke," said Tatum. "The guys and I would answer with 'But the NBA's our dream.' Then Al would respond by telling us we needed to concentrate on getting our education instead of dreaming about pro ball. I found out just how right he was when I hurt my knee and was glad I had my degree to fall back on."
Since leaving Farmers earlier this year, Tatum, 52, has kept busy by staying in shape (he walks five miles, four days a week) and can often be found at the McGuire Center, volunteering his time on a committee formed by Marquette Associate Athletic Director Jack Harbaugh, that reaches out to former players. He has also developed a close relationship with current Coach Tom Crean, who, he believes, was instrumental in spearheading the movement to retire his uniform number during the 2005 season. Tatum says Crean and McGuire are cut from the same cloth.
"The first day I met Tom, he said 'The door's always open,' which is what Al used to say, too," said Tatum, who is a regular attendee of both the men's and women's home games. "Tom's all class. He's made a great effort to honor the former players and to make them feel a part of the program again. He's real and genuine and makes you feel great about this university."